MOTU's MicroBook IIc audio interface packs tons of great sound and functionality for your Mac, PC or iPad into a petite-yet-rugged cast metal case. The MicroBook IIc builds upAll the I/O you need.on the features of its popular predecessor with hands-on volume control, negligible latency, six simultaneous outputs, an XLR mic input, and 96kHz recording and playback support. Perfect for for live recording, laptop-based DJing, or laying down tracks in your home studio, the MicroBook IIc has the sonic quality and routing flexibility to become the hub of your audio rig. For a compact audio interface, the MOTU MicroBook IIc is a solid performer.
Audio Quality
A complete solution: Everything you need to make world-class recordings
The MicroBook IIc provides simultaneous inputs for a microphone, a guitar, and a keyboard or other stereo line level device. The mic preamp delivers neutral coloration and pristine sound, with -20 dB pad and 48V phantom power for condenser mics. Programmable outputs provide flexible monitoring options.
Ultra-compact size
Take it with you anywhere
The MicroBook IIc is an impressively small 5.5 by 3.6 by 1.25 inches, which means that it slides easily into your backpack — or a large pocket. It also sits nicely next to your laptop or desktop computer.
Studio-grade sound
Engineered for the discriminating ear
The MicroBook IIc has been engineered with MOTU's renowned, award-winning audio interface technology, which delivers the uncompromising audio quality and rock-solid performance MOTU interfaces are known for worldwide. You can always record and mix with confidence, even in the most demanding professional recording situations, knowing that decades of engineering experience are behind you, every step of the way. The MicroBook IIc delivers measured audio specs that rival interfaces costing hundreds more.
High-speed USB 2.0
High bandwidth and low latency
The MicroBook IIc can record and play all channels simultaneously, and high-speed USB 2.0 provides plenty of bandwidth, even at 96 kHz.
IPad® support
High-quality I/O for your iOS music apps
As the "c" in its name implies, the MicroBook IIc is USB audio class compliant. Use a standard Lightning to USB Camera Adapter (purchased separately) to connect the MicroBook IIc to your iPad. Then record and monitor high-quality audio with your favorite iOS apps. Power the MicroBook IIc with the included Micro-USB cable and AC wall adapter.
Flexible volume control
Digital encoders push and turn
The two digital rotary encoders not only look good, they feel good, too. Push the volume knob repeatedly to cycle among the main outs, headphones, or both, as indicated by the LEDs. For the mic input, adjust trim and toggle 48V phantom power or the -20 dB pad. Hands-on control is immediate and intuitive.
Professional I/O
Personal recording with no-compromise, professional I/O connections
XLR mic input
Go ahead: connect your $5,000 mic. This preamp is worthy of the best you've got.
Hi-Z guitar in
Proper impedance delivers totally authentic guitar tones that feel right as you play.
Line in
Add a keyboard or other line level input on balanced connectors for pristine sound.
Multiple independent outputs
Feed independent audio to each output pair: main out, line out, and phones.
Balanced line level connectors
Protect your mix from AC hum and RF noise with balanced connections.

Digitally controlled analog trim
You get the best of both worlds: analog sound quality with digital precision.
Mixing and effects
It's an 8-bus digital mixer, too
The MicroBook IIc is an 8-bus digital mixer that lets you mix live inputs with each other — with or without host software tracks. With CueMix FX running on your computer, you can create separate mixes of live audio from your mic, guitar, and keyboard, and send each mix to separate outputs (main out, line out, and phones out) or any combination of all three.
Solid metal chassis
MOTU interfaces are built to last
The MicroBook IIc aluminum alloy chassis is lightweight, yet incredibly sturdy and durable, and designed to withstand the rigors of the studio, stage, and tour bus. In a world awash with cheap plastic, the cool touch of the MicroBook IIc's metal exterior in your hands is a reassuring reminder that you are holding quality engineering and construction built to last.
"This very portable USB interface is a singer/guitarist's dream come true."
— Recording Magazine

"The MicroBook II is an ideal choice for the mobile musician
in need of an affordable and simple but flexible I/O.
If you need to record stereo keys, guitar or bass, and vocals,
along with hearing your soft synths,
this unit will handle the job with ease."
— Keyboard Magazine
Advanced extras
The engineering behind the MicroBook IIc runs deep, to give your audio recordings the depth of quality they deserve
Six simultaneous outputs
Output three stereo pairs simultaneously. They can match or be completely independent.
HD audio
Record your projects at 88.2 or 96 kHz for true HD audio resolution.
Instrument tuner
Tune your guitar or other instrument to within a hundredth of a cent with this easy-to-read meter.
Signal Generator
Generate sine waves and white or pink noise to calibrate and fine-tune your entire studio.
Analysis tools
Visualize the harmonic content of your mix with dynamic animation and vivid color.
Oscilloscope
Turn your computer into a sophisticated oscilloscope with digital precision.
CueMix FX™
On-screen mixing and control app
The included CueMix FX software for Mac OS X and Windows gives you graphic, on-screen control of the MicroBook IIc's on-board audio mixer, with up to four separate stereo mixes (a separate mix for each output pair). For example, you can mix all the inputs to the main outs, but also mix them to the line outs with completely different levels than the main outs. Advanced features include a tuner, oscilloscope, FFT/spectrogram, and phase analysis tools.
AudioDesk®
Professional workstation software
The MicroBook IIc includes AudioDesk, the workstation software for Mac OS X and Windows (10, 8 and 7), which provides advanced recording, editing, mixing, processing, and mastering. AudioDesk delivers the power of modern digital audio workstation technology in an easy-to-use, inspiring multitrack recording experience. Together, AudioDesk and the MicroBook IIc transform your computer desktop into a complete, professional recording studio.
All the I/O you need.
And only what you need.
Too much I/O can get in the way.
The Microbook IIc provides the perfect balance
for personal recording.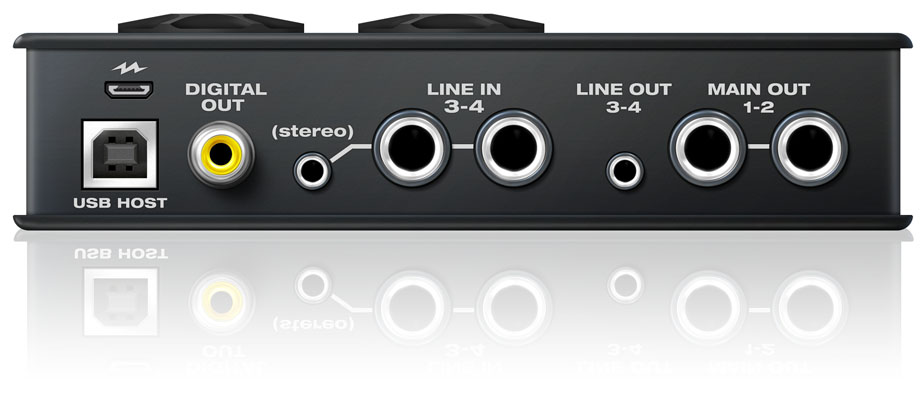 XLR mic input
A transparent preamp worthy of your best mic
Go ahead: plug in your $5,000 microphone. The MicroBook IIc's exceptionally transparent preamp faithfully preserves the characteristics and nuance of even the finest mics. Control trim, -20 dB pad and 48V phantom power from the digital rotary encoder on the top of the unit, or from the included CueMix FX software.
Hi-Z guitar input
It might as well be a real guitar amp
Without proper impedance levels, direct "DI" guitar input won't sound right when you run it through your guitar amp plug-ins and virtual stomp boxes. The MicroBook IIc's dedicated "hi-Z" DI guitar input provides high-impedance load characteristics suitable for passive and active pickups alike, to produce authentic guitar tone and feel with your guitar processing software.
"A single XLR mic input feeds a terrific-sounding mic preamp and MOTU's high-quality converters. Live banjo and guitar tracks sounded crisp and clear without shrillness.
Going in the other direction, analog-modeled sawtooth pads were fat and warm."
— Keyboard Magazine
Stereo line inputs
Connect a keyboard or other line input
The MicroBook IIc's analog inputs are designed to be flexible, so that you can address a wide range of recording situations. The line inputs provide proper level matching for keyboards, analog mixers, effects processors, or other gear with either -10 dB or +4 dB reference level.
Multiple separate outputs
A separate mix for each output
The MicroBook IIc provides three independent stereo output streams from your host software. These feed four physical output pairs: the balanced quarter-inch main outs (2 ch), stereo "mini" line outs (2 ch), phones (2 ch), and the digital S/PDIF out (2 ch), which always mirrors the main outs. Feed the main outs to a pair of powered studio monitors or the club's main system. The line outs can be used for a variety of purposes, either mirroring the main outs or, if you are DJing, perhaps to feed a monitor mixer or separate recorder.
Professional headphone jack
Put away your earbuds and hear what you are missing
The MicroBook IIc provides a quarter-inch phone jack equipped with a
high-end D/A converter for studio-grade headphones. All-around audio quality this good deserves professional headphones.
Balanced line level connectors
Protect your sound from environmental noise
Other audio interface brands (even expensive ones) cut corners with unbalanced analog inputs and outputs, which can result in significantly compromised performance well below an equivalent balanced circuit. Not the MicroBook: your balanced I/O connections are well-protected against RF interference, AC hum, and other noise-producing environmental factors.
Digitally controlled analog trim
Analog quality with digital precision
The MicroBook IIc preamp delivers clean sound, plenty of gain and precise adjustment using the top-panel digital encoder or the on-screen CueMix FX software. The gain adjustment itself is smooth because it is analog, but the digital control gives you both precision and the ability to save and recall trim settings. So you get the best of both worlds: analog trim with digital precision and control. Trim is adjusted at the input, before the mixer, so it applies to all mixes. Mix levels are controlled separately from trim, so you never sacrifice sound quality for a balanced mix.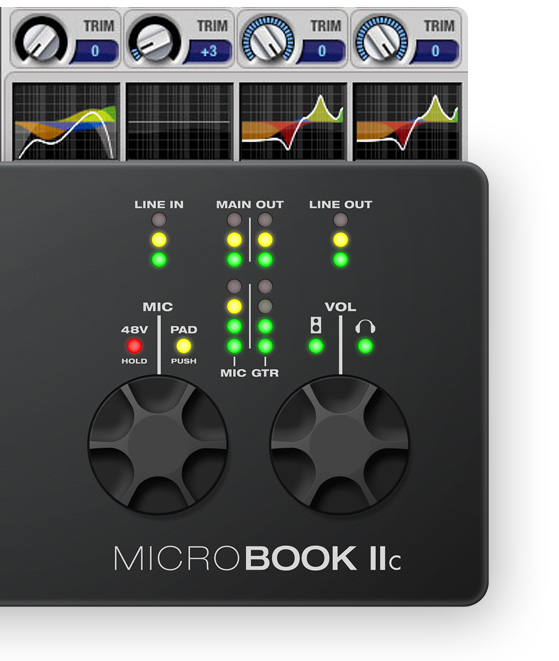 A capable and compact mixer-to-go.
Mix live inputs with computer tracks with no latency.
Refine your sound with modeled analog EQ and compression
Three separate mixes
Dial up a separate mix for each output pair
The MicroBook IIc mixer takes signals from its four inputs, plus output from your computer, and mixes them to an output pair, such as the main outs. You control the volume of each input. Better yet, you can adjust input volumes differently for each output pair. In other words, each output pair can have its own unique mix. For example, you might create a balanced mix going to your PA via the main outs, but bring up the guitar for the mix going to your stage monitors via the line outs, so you can easily monitor your guitar sound. You get a separate mix for main out, line out, and phones.
CueMix FX Software
On-screen mixing and control
CueMix FX gives you comprehensive graphic control over your mix and other settings in the MicroBook IIc. CueMix FX can be operated side by side with any host audio software for Mac or Windows, and it can be controlled from the Mackie Control Universal Pro automated worksurface, or any HUI-compatible controller.
INPUTS
MIXES
OUTPUTS
Multi-touch iPad control
Use an iPad to control your MicroBook IIc mix
It's the ultimate hands-on experience: use TouchOSC software (sold separately) with a custom-designed template for your MicroBook IIc and enjoy hands-on control of all mixing, EQ and compressor settings. Refining your mix has never been this fluid and intuitive.
Modeled analog EQ
Smooth and musical, not harsh and sterile
British analog mixing consoles are renowned for their musical EQ profiles. The MicroBook IIc meticulously models these classic EQ curves to give you the very same, magical EQ settings found on these coveted desks. Seven separate filters are available on every input and output, including low-shelf and high-shelf, with intuitive graphic control of each EQ parameter.
Classic compression
No studio is complete without a compressor
The MicroBook IIc provides a classic compressor on each input and output, so you can apply compression liberally with the flexibility to decide if and when you want to "commit" to your mix. You can change the MicroBook's compression settings at any time while recording or listening.
USB routing to host
Send a complete mix back to your host software using driver-supplied returns
When mixing live inputs with computer tracks, sometimes you want to capture the result. The MicroBook IIc driver lets you do this in software, making it a snap: just record the MicroBook's 'return' bus back into your host software. Done! Say goodbye to jerry-rigged patching of cables from inputs to outputs…
Waken your inner engineer with the MicroBook IIc's many advanced extras.
Instrument Tuner: Accurately tune guitars and other instruments
Play a note and use the large graphic display to get in tune with an accuracy of one 10th of a cent (one 1,000th of a semi-tone). The Tuner displays the detected note by name, octave, and frequency (in Hertz), with an adjustable reference frequency for A4 between 400 and 480 Hz. You can even tune phase-coherent stereo signals. The CueMix FX Tuner is as advanced and accurate as any dedicated hardware tuner out there.
Sine wave generator
Infinitely useful in any studio environment
Set the frequency, set the amplitude, and choose an output. It's that simple. Sine waves can be immeasurably useful for setting levels, performing calibration, troubleshooting, sound design, and annoying the heck out of unwanted visitors when they invade your studio.
White/pink noise generator
Sometimes, noise is useful and good
That's why the MicroBook IIc provides both white noise and pink noise, which can be used for sound effects, filter sweeps, masking, testing, calibration, and much more. With noise this close to your fingertips, you'll wonder how you ever got along without it.

FFT display
Visualize your frequency content
Visually monitor the frequency content of your music or other audio material as it plays. The CueMix software superimposes a Fast Fourier Transform directly on the spectrogram display so that you can see the relationship between the two for the audio material being monitored.
Spectrogram "waterfall"
A cascade of information — in vivid color
Observe rich, detailed visual information about the frequency content of any signal or mix. You can expand the spectrogram to fill the entire resizable CueMix on-screen window. You can also combine the spectrogram with the FFT in the same display, as shown below, or separate them to view them individually but simultaneously.
FFT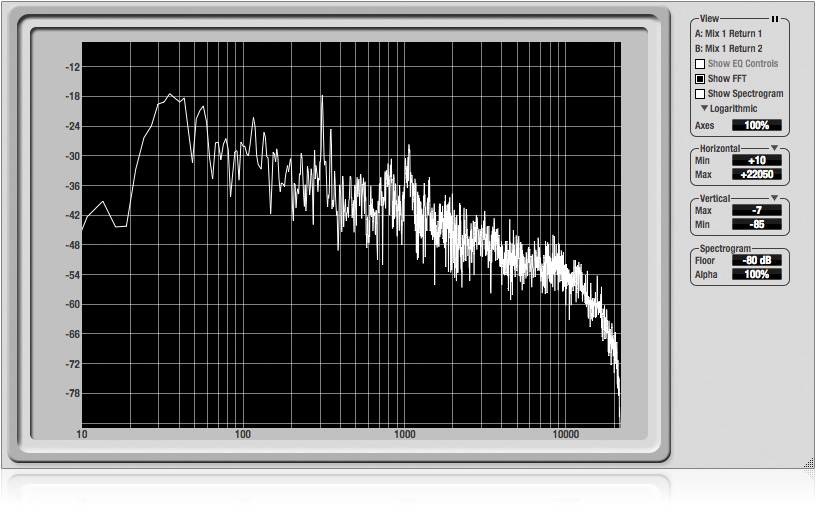 BOTH
SPECTROGRAM
X-Y Plot
Check phase alignment with visual clarity
The X-Y Plot window graphs a stereo signal on a standard grid with left-channel amplitude on the x-axis and right-channel amplitude on the y-axis. Stereo material that is said to be "in polarity" (i.e., phase aligned) appears along the x = y axis. Stereo material that has phase problems will appear along the x = -y axis meaning the signal will appear predominantly in the upper left and lower right of the display. A signal with an extremely wide stereo field will appear much more randomly (not along either axis).
IN PHASE
OUT OF PHASE
NO PHASE
Phase Analysis
Check for phase cancellation when summing to mono
The Phase Analysis window graphs frequency versus phase difference versus amplitude of a stereo signal on either rectangular or polar coordinates. In the rectangular view, the vertical axis represents frequency, and the horizontal axis represents the phase of the left channel minus the phase of the right channel. Stereo audio that is predominantly in polarity will appear centered along the center vertical axis. Frequencies that would be canceled by summing to mono are those that touch the -1.0 or +1.0 lines on the left and right.
RECT LINEAR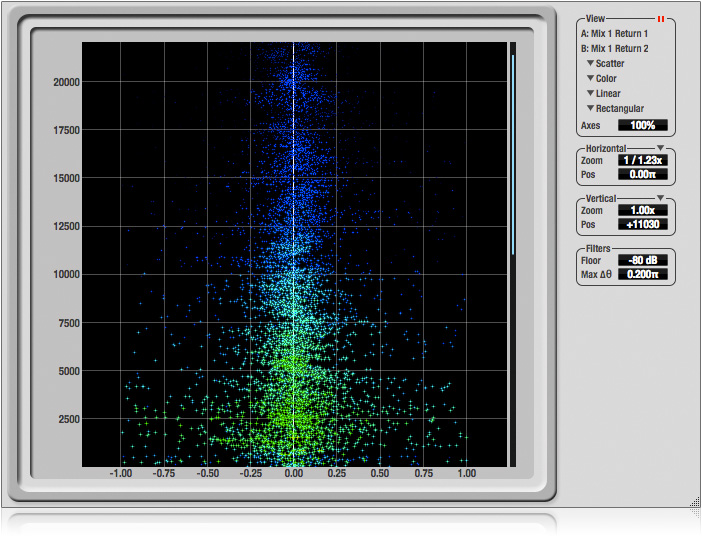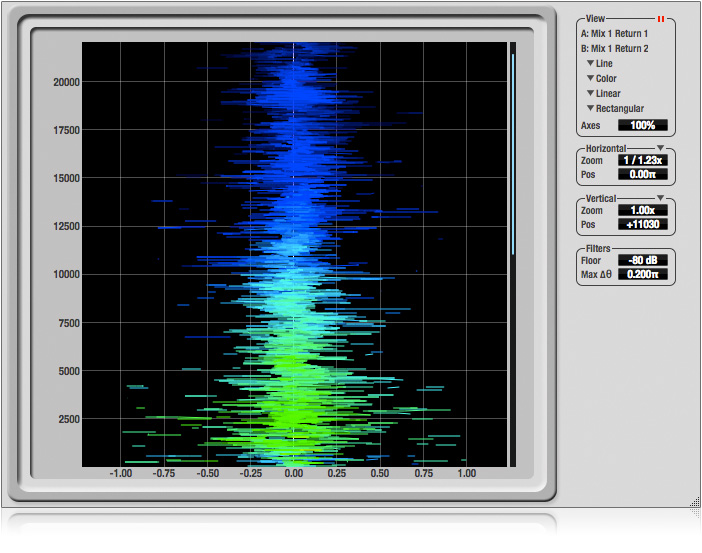 RECT LOG
In the polar view, the radius represents frequency and the angle (theta) from the +y vertical axis represents the phase difference of left channel minus the right channel. Stereo audio that is generally in phase will appear along the +y axis (above the center point). The more the audio signal "tips" to the left or right, the more out of polarity it is. If it is completely out of phase, it will point downwards from the center point and hover around the -y axis (the part of the y axis below the center point).
POLAR LINEAR
POLAR LOG
Applications for phase analysis
Phase analysis can be used for a broad range of applications
in the studio and on stage. Here are just a few ideas.
Summing to mono
If your stereo material needs to be summed to mono, Phase Analysis lets you see what frequencies will be canceled out when summed.
Checking overall polarity
Quickly check the overall polarity in your stereo mix for phase issues.

Oscilloscope
This is not your grandpa's oscilloscope…
CueMix's oscilloscope delivers a robust feature set combined with digital precision. Amplitude is displayed on the y-axis and time is displayed on the x-axis. The pause button lets you "freeze" the real-time display and then zoom in to the sample level for closer examination. You can choose among several different displays for stereo signals, including combined (as shown below) or split screen. The Waveform Recognition feature searches through new audio data looking for matching waveform data, and the trigger options let you specify detailed criteria for displaying the incoming signal's waveform in the display. The oscilloscope can be used for a variety of daily studio tasks, such as analyzing and comparing harmonic content, closely inspecting transients such as drum hits, comparing timing between two signals, and performing clip detection. You can even use the oscilloscope to help you build synth patches and check them for non-obvious issues, such as DC offset.
AudioDesk 4: An audio production powerhouse. included.
The Microbook IIc ships with AudioDesk 4 workstation software.
All the audio production power you need. And then some.
AudioDesk 4
Advanced workstation software for Mac OS X and Windows
AudioDesk provides advanced recording, editing, mixing, processing, and mastering. AudioDesk delivers the power of modern digital audio workstation technology in an easy-to-use, inspiring multitrack recording experience. Together, AudioDesk and the 828x transform your computer desktop into a complete, professional recording studio.
Recording
Record as many tracks as you need — there are
no track limits or other restrictions in AudioDesk.

Editing
Refine your tracks to your heart's content. Dozens of advanced editing features await you.

Mixing
Create the perfect mix with AudioDesk's sophisticated, automated mixing environment.
Processing and mastering
Apply EQ, dynamics, reverb and other effects. Add master channel effects for final mixdown.