HIGHLIGHTS
■ Based on professional Kawai acoustic upright/grand pianos
■ Advanced acoustic piano muting systems for silent playing
■ Unique Soundboard Speaker System developed with MPAs
■ Flagship SK-EX Rendering multi-channel digital piano sound
■ Flexible Virtual Technician function with 21 adjustable parameters
■ Premium audio processing and headphone amp technology
■ Integrated Bluetooth® MIDI and Audio wireless connectvity
■ Dedicated PianoRemote control app for iOS and Android
CONCEPT
Analogue action, digital world
The AURES AR2 hybrid instruments blend Kawai's masterful acoustic piano craftsmanship with advanced digital piano technologies. Each piano begins with the solid foundation of Kawai's award-winning upright and grand pianos, offering class-leading features such as the Millennium III action, considered to be the world's finest upright and piano actions.
Equipped with Kawai's most advanced digital and sound technologies, AURES AR2 instruments are also premium digital pianos that can be played silently with headphones or through their acoustic soundboard. Players can complement their performances with a wide selection of digital sounds or layer these sounds with the acoustic piano to create unique combinations. Practice new pieces using the built-in metronome then record their performance, or play along with tracks from a Bluetooth-connected smart device and enjoy a personal ensemble performance.
TOUCH
All AURES AR2 upright and grand piano instruments incorporate Kawai's specially developed acoustic muting systems which effectively prevent the action's hammers from striking the strings, thus silencing the sound of each note when played.
GP Touch Muting System (GP type only)
The latest AURES AR2 grand piano instruments utilise Kawai's brand new GP Touch Muting System. This technology features a significantly improved hammer stop rail system that is able to accurately halt the action's hammer movement immediately before striking the strings, without the need to make special adjustments to let-off position or timing.
This unique design allows pianists to play AURES AR2 grand pianos with exactly the same level of effortless fluency as their standard acoustic counterparts in both normal and muted playing modes, while also enjoying a wide range of convenient and inspiring digital features.
Unlike conventional muting systems that stop the hammer shank at a single position, AURES AR2's GP Touch Muting System places the stop rail at different points along the keyboard, as close to the hammers as possible, ensuring a firm, precise stop just before striking the strings.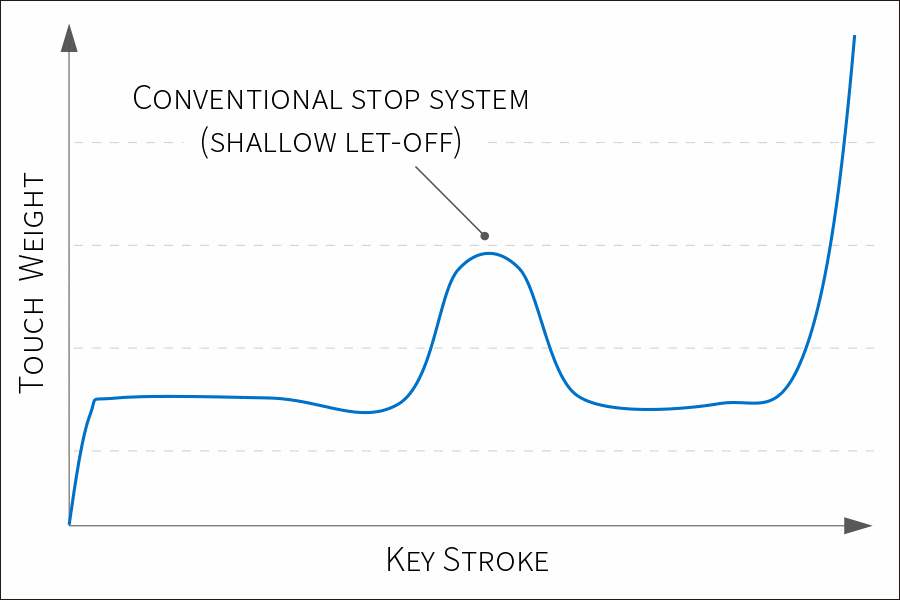 Because of the GP Touch Muting System's firm and precise hammer stop capabilities, it is no longer necessary to regulate a shallow let-off point for the action. As a result, pianists can enjoy exactly the same grand piano touch feeling in both normal and muted playing modes.
Integrated Hammer Sensing System
The AURES AR2 pianos' precise hammer movements are measured with Kawai's Integrated Hammer Sensing System (IHSS), which utilises high-resolution contact-less optical sensors to provide greater accuracy then conventional key-based sensor systems.
This more advanced approach reproduces the mechanical flow of the upright and grand pianos' actions more closely, allowing the full range of dynamics to be expressed by the instrument's powerful digital piano sound engine with natural fluency.
SOUND
Shigeru Kawai SK-EX full concert grand
The Shigeru Kawai SK-EX concert grand piano was conceived as the next step in evolving the art of the piano. Earning a reputation as the 'premier piano of Japan,' it graces the stages of concert halls and musical institutions around the globe, receiving universal acclaim for its exceptional clarity and dynamic range. The SK-EX has frequently been selected by professional pianists at such prestigious events as the Chopin, Tchaikovsky, and Rubinstein international piano competitions. With its magnificent tone and wonderfully responsive touch, the SK-EX can best be described with one word – incomparable.
Flagship Digital Piano Sound Engine
The AURES AR2 instruments incorporate Kawai's latest digital piano sound technologies from the highly regarded Concert Artist and Novus product lines. When playing through headphones or when AURES mode is active, pianists can enjoy the beautiful sound of the flagship Shigeru Kawai SK-EX full concert grand piano, stunningly reproduced using the advanced SK-EX Rendering sound engine.
Multi-channel Sampling
The SK-EX Rendering engine's multi-channel sampling captures the sound from different points of the Shigeru Kawai concert grand.
This modern technique not only allows a broader range of tonal characteristics to be recorded and reproduced, but also improves the connection felt between the keyboard and piano sound, resulting in a more lively and authentic response to changes in dynamics.
Full Resonance Modelling
This naturally expressive Shigeru Kawai sound is further enriched by resonance algorithms which model the complex tonal interactions produced by the strings and various other parts of an acoustic piano.
SK-EX Rendering generates resonances for the damper pedal and all 88 keys progressively, allowing the AURES AR2's digital piano sound to behave just like an acoustic piano.
Rich sound selection
Supplementing the beautiful acoustic piano voices, the AURES AR2 pianos also features an excellent selection of additional instruments, ranging from electric pianos and drawbar or church organs, to strings, human choirs, and synth pads, inviting musicians to add greater variety to their performances.
Furthermore, the Dual playing mode also allows two different sounds, such as grand piano and strings, to be layered together for a richer, more luscious tone, while the Split and Four Hands modes divide the keyboard into two independent sections with separate sounds for each. The volume balances and other settings for each playing mode can also be easily adjusted using the dedicated PianoRemote app.
Soundboard Speaker System
In addition to the acoustic muting and digital sound features, AURES AR2 instruments are also equipped with the latest iteration of Kawai's advanced Soundboard Speaker System. This innovative technology utilises four high-performance transducers which are strategically placed onto the upright or grand piano's solid spruce soundboard. These transducers channel the AURES AR2 instrument's digitally generated sound through the large wooden soundboard, resulting in a naturally acoustic tone that is more expansive than that produced by traditional cone speakers.
Pianists can then enjoy the flexibility and convenience offered by a digital piano, such as the ability to select a broad range of different instrument sounds, record and playback one's performance, or freely adjust the volume level to avoid disturbing loves ones – all while continuing to play the AURES AR2's exceptional Millennium III upright or grand piano keyboard actions.
FEATURES
Modern Bluetooth connectivity
Designed to meet the connectivity needs of modern pianists, AURES AR2 pianos feature standard USB and MIDI jacks for connecting to computers or other instruments, as well as integrated Bluetooth® MIDI and Audio technology that allows wireless communication with supported smart devices.
Once paired to a phone, tablet, or laptop, AURES AR2 owners can enjoy a wide variety of exciting music-related apps that enhance their studying and playing experiences, or stream high quality, low-latency aptX audio directly through the instruments' headphones or the AURES AR2's Soundboard Speaker System without the need for any cables.
PianoRemote control app
The digital features of AURES AR2 pianos are exclusively controlled via the dedicated Kawai PianoRemote app, available for both iOS and Android devices.
PianoRemote provides a range of functions, including sound selection and customisation via the Virtual Technician feature, performance record and playback with integrated metronome, and a built-in piano music library consisting of hundreds of classical pieces to enjoy – all accessible from an attractive, intuitive user interface.
Excellent headphone sound quality
The AURES AR2 pianos' Spatial Headphone Sound (SHS) technology enhances the depth and realism of the instrument's digital piano sound when listening through headphones or earphones. The player can select one of three different acoustic presets that adjust the spatial positioning of the sound, while also helping to reduce auditory fatigue when using earphones or headphones for extended periods of time.
In addition to featuring a premium quality headphone amplifier, AURES AR2 instruments also allow players to specify the type of headphones connected (Open, Semi-open, Closed, In-Ear, Canal, etc.) to ensure an optimal listening experience.
QUALITY
Develped with MPA Supervision
To ensure that all AURES AR2 instruments match the premium quality and excellent playability of their standard acoustic upright and grand piano counterparts, Kawai's R&D engineering staff worked closely with the company's internal Master Piano Artisans (MPAs).
These extremely knowledgeable and experienced technicians supervised each stage of the AURES AR2 development process, to ensure that the instruments' acoustic keyboard action remains exceptionally responsive and balanced, even when used to trigger the digital piano sound engine, and guarantee that the tonal characteristics of the Soundboard Speaker System are as close as possible to that of an acoustic piano.