If you're looking for an audio interface with high-end sound, ultra-low latency, and generous I/O, you're in luck. The MOTU 8A exhibits excellent sound with an impressive 123dB of dynamic range, by virtue of ESS Sabre32 DAC technology. Round-trip latency as low as 1.6ms at 96kHz via Thunderbolt and 1.9ms via USB make recording a trouble-free endeavor. Connecting your line-level gear is easy, with 34 total channels of I/O on tap. Employ the 8A as a standalone mixer, or enjoy wireless control from your tablet, smartphone, and laptop. The MOTU 8A hybrid audio interface also features a DSP mixer for latency-free routing, and a range of useful digital effects.
Audio Quality
34 simultaneous audio channels
You get 8 x 8 balanced analog, 8-channel ADAT optical and independent headphone out for 16 inputs and 18 outputs. The optical ports also support stereo TOSLink (optical S/PDIF).
Superb analog audio quality and high-end converters
Performance suitable for the most demanding situations
Renowned ESS Sabre32 Ultra™ DAC technology delivers 123 dB dynamic range and the same proven, award-winning audio quality as MOTU's flagship 16A.
Ultra-low latency and proven, high-performance MOTU drivers
The best possible latency performance
The 8A delivers round-trip latency (RTL) performance as low as 1.6 ms at 96kHz over Thunderbolt™ — and an astonishing 1.9 ms over USB — with high-performance DAW hosts.

Mobile operation and universal connectivity
Ultimate portability and flexibility
Connects to your computer with Thunderbolt™, super-speed USB 3.0 or AVB/TSN Ethernet — with support for up to 256 audio channels (128 in and 128 out). USB audio class-compliant firmware and high-performance, industry-standard drivers work with any audio apps. Connects to your iPad™ with a standard camera connection kit (adapter).
Super-speed USB 3.0
Compatible with USB 2 and iOS
Thunderbolt Technology
Blazing speed with any Thunderbolt host
AVB/TSN
Multi-channel audio over Ethernet
DSP mixing and effects processing
Console-style mixing with 48 channels and 12 busses
The 8A's full-fledged 48-input digital mixer delivers 7 stereo aux busses, 3 groups, access to 64 network inputs, and DSP effects, including reverb, 4-band EQ, gate and compression. If you know your way around a large-format mixing console, you'll feel right at home. If you've ever wished to mix on a large console, the driver's seat is now yours.
Modeled vintage effects processing
Vintage processing with 32-bit float precision
Classic reverb. Compression modeled after the legendary LA-2A compressor. EQ modeled after British analog console EQs. The 8A's mixing and effects DSP engine delivers virtually unlimited headroom and the utmost in sound quality.
Flexible matrix routing and splitting
Route your audio anywhere with one-click ease
Send any input to any output, or multiple outputs. Includes routing to and from the computer, plus any devices on the audio network.
Web app control from any device
Control everything from your laptop, tablet and smartphone
The software that you use to control the 8A doesn't reside on your hard drive. It's a web app served from the hardware itself. This means you can control the 8A on-board DSP, mixing, device settings, and network audio routing from your favorite web browser on a laptop, tablet or smartphone connected by wire or Wi-Fi to your local area network. Use any web client on any platform – Mac, Windows, Linux, iOS, Android – as long as it shares the same network.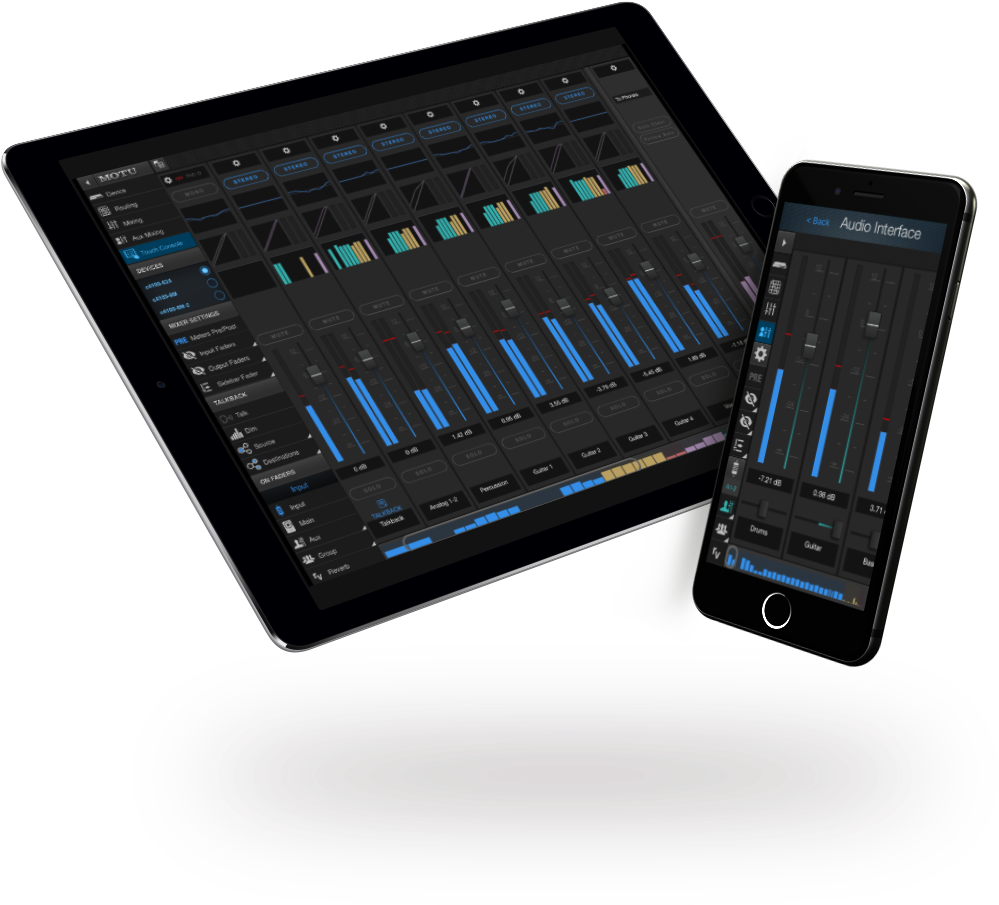 Touch Console
The art of the mix on your touchscreen
Designed specifically for touchscreen operation, Touch Console™ delivers a whole new mixing experience. Access Touch Console from your tablet or smartphone to effortlessly control the powerful 48-channel mixer and effects in the 8A. With large targets for your fingers, multi-touch operation and intuitive design, you can tap, swipe and pinch your way to a perfect mix, every time.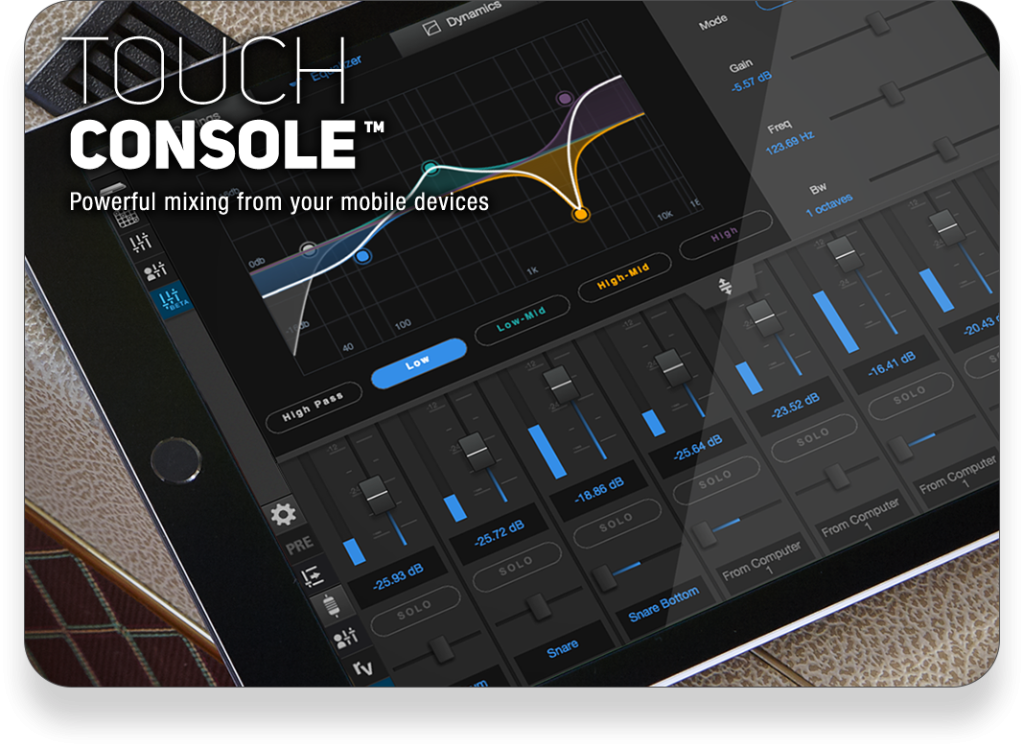 Stand-alone operation with wireless control
No computer or laptop needed
Connect an Apple® Airport™ or other Wi-Fi router with a standard Ethernet cable for wireless control of device settings, powerful 48-channel mixing and DSP effects.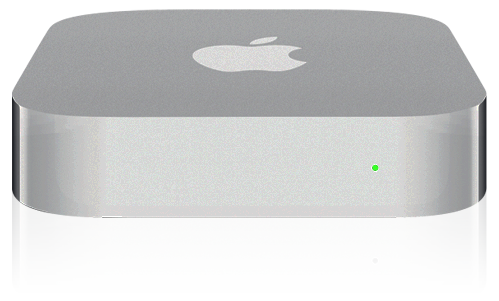 System expansion
Expand your system with more I/O and Wi-Fi control
Add a 2nd MOTU AVB-equipped interface with a simple CAT-5e ethernet cable.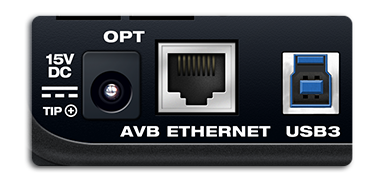 Connect up to five MOTU interfaces using a MOTU AVB/TSN Switch (sold separately).
Build a network with multiple interfaces and computers using standard AVB/TSN switches and network cabling, with ultra-low network latency, even over long cable runs (100 meters point to point). Stream hundreds of audio channels among devices and computers on the network.
Comprehensive metering
View all I/O activity at a glance — in full color
The full-color LCD lets you view all signal activity at a glance with detailed metering for all analog and digital I/O. Access hardware settings from a simple and convenient menu.
AudioDesk
Powerful audio workstation technology for Mac and Windows
Includes AudioDesk workstation software for Mac and Windows with 24-bit recording, sample-accurate editing and 32-bit mixing and mastering