Portability, flexibility, and convenient simplicity – MOTU's 4pre hybrid recording interface gives you all
of this and more. Whether you have a FireWire-equipped Mac laptop or a PC tower with USB ports, recording with your MOTU 4pre couldn't be easier. Like the name suggests, the 4pre sports four studio-quality microphone preamplifiers. What's more, each input features a combo jack, giving you inputs for your mics, instruments, and line-level sources. And housed in a handy all-metal half-rack chassis, the MOTU 4pre is ready to go where the music takes you.
Audio Quality
Introducing the 4pre: the capable, compact audio interface with four mic preamps
and mixing.
Equipped with four mic inputs and hands-on mixing, the pre is the ideal live-recording interface for both studio and stage.
Four mic preamps
When two mic inputs just aren't enough
If you've been searching for an affordable, compact audio interface with four mic inputs, your search is over. The 4pre packs four mic inputs into an impressively small half-rack form factor, along with a healthy complement of additional professional-grade audio connections. Just think of the possibilities. You can record and mix vocals plus guitar for two musicians simultaneously. Or mic a drum kit with overheads
and close-ups. Or record lead and background vocals in one take. With an interface this flexible, capable, and great-sounding, you'll be ready for any situation your music throws at you.
Compact size
Designed to go with you anywhere
The 4pre is an impressively small 8.5 by 7 by 1.75 inches, which means that it slides easily into your backpack. It also sits nicely next to your laptop or desktop computer.
Flexible combo-style inputs
Connect guitars, a keyboard, or other inputs
The four inputs are not just for mics: they are combo jacks that also accept a quarter-inch plug. Inputs 1-
2 take line-level signals, such as the output from a synth or keyboard. Inputs 3-4 are "hi-Z" DI inputs with proper impedance for plugging in your electric guitar directly, without an amp or cabinet, to process your guitar sound through amp and cab simulation plug-ins in your host software.
Universal connectivity
Hybrid technology connects to any computer
Thanks to MOTU's Hybrid interface technology, the 4pre connects to any Mac or PC via FireWire or
high-speed USB 2.0. Connect your mic, guitar, keyboard, and digital input, and you are ready to
make pro-quality recordings.
Bus-powered FireWire
No power supply needed
The 4pre can draw power from its FireWire connection to the computer, so you can
operate remotely on laptop battery power.
High-speed USB 2.0
High bandwidth and low latency
The 4pre can record and play all channels simultaneously, and high-speed USB 2.0
provides plenty of bandwidth, even at 96 kHz.
Mixing made simple
Hands-on mixing for studio and stage
Quickly balance the levels of mics, guitars, a keyboard, or other inputs right from the front panel. Each input has its own volume control. Route inputs directly to any output pair, each with its own unique
mix: main outs, line outs, S/PDIF out, and phones.
Studio grade sound
Your mix will be ready for prime time
The 4pre has been engineered with MOTU's renowned, award-winning audio interface technology,
which delivers the pristine audio quality and rock-solid performance that MOTU interfaces are known
for worldwide. You can always record and mix with confidence, knowing that decades of engineering experience are behind you, every step of the way.
Solid metal chassis
MOTU interfaces are built to last
The 4pre aluminum alloy chassis is lightweight, yet incredibly sturdy and durable, and designed to withstand the rigors of the studio, stage, and tour bus. In a world awash with cheap plastic, the cool
touch of the 4pre's metal exterior in your hands is a reassuring reminder that you are holding quality engineering and construction built to last.
Rack mounting brackets
Mount the 4pre in a rack with your other gear
The 4pre can be joined with another MOTU half-rack interface (MIDI or audio) and together they can be mounted in a standard 19-inch equipment rack, or you can mount them on rack rails with other MOTU gear for convenient desktop operation, as shown here.
Use the included brackets and hex bolts to join the 4pre with another MOTU interface, such as the micro lite MIDI interface shown here (or a second 4pre), to mount them in a standard 19-inch equipment rack.
Advanced extras
The engineering behind 828x runs deep, to give your audio recordings the depth of quality they deserve
Expansion
Add another MOTU audio interface for more
inputs and outputs as your needs grow.
Instrument tuner
Tune your guitar or other instrument to within a hundredth of a cent with this easy-to-read meter.
SMPTE time code sync
Resolve your workstation software to time code, without the need for a dedicated synchronizer.
Analysis tools and oscilloscope
Visualize the harmonic content of your mix with dynamic animation and vivid color. Check phase.
CueMix Software
On-screen mixing and control
The included CueMix software for Mac OS X and Windows gives you graphic, on-screen control of the 4pre's on-board audio mixer, with up to four separate stereo mixes (a separate mix for each output pair). For example, you can mix all the inputs to the main outs, but also mix them to the line outs with completely different levels than the main outs. Advanced features include a tuner, oscilloscope, FFT/spectrogram, and phase analysis tools.
AudioDesk®
Workstation software for Mac OS X
The 4pre includes AudioDesk, the workstation software for Mac OS X, which provides advanced recording, editing, mixing, processing, and mastering. AudioDesk delivers the power of modern digital audio workstation technology in an easy-to-use, inspiring multitrack recording experience. Together, AudioDesk and the 4pre transform your computer desktop into a complete, professional recording studio.

the 4pre: it's way more than half an 8pre.
Engineered with the same expertise as MOTU's popular 8pre, the 4pre packs an unprecedented amount of audio I/O into an incredibly compact size.
Four mic inputs with individual preamps
Record four individual mics, or two stereo pairs
The 4pre combo mic/guitar inputs are equipped with pristine, transparent preamps and offer individually adjustable 48V phantom power and
-20 dB pad. All settings can be adjusted directly on the front panel, or from the 4pre's CueMix software running on your computer. Mic inputs can be operated individually or in stereo pairs, as needed.
Two guitar inputs
Hi-Z guitar inputs deliver true guitar sound
Without proper impedance levels, direct "DI" guitar input won't sound right when you run it through your guitar amp plug-ins and virtual stomp boxes. The 4pre's two guitar jacks provide high-impedance load characteristics suitable for passive and active pickups alike, to deliver proper guitar tone to your host software. For even more authentic feel and response when using virtual guitar amp and cabinet plug-ins, use a ZBox guitar impedance adapter.
Stereo line inputs
Connect a keyboard or other line input
The 4pre analog inputs are designed to be flexible, so that you can address a wide range of recording situations. The line inputs provide proper level matching for keyboards, analog mixers, effects processors, or other gear with either -10 dB or +4 dB reference level input.
Main outs and line outs
Four analog outputs
Connect a pair of powered studio monitors to the main outs. The separate line outs can be used for a variety of purposes, either duplicating the main outs (perhaps for a 2nd set of studio monitors) or acting as an independent output pair (for a separate mix going to a mixing board or stage wedges, for example).
Two headphone jacks
Work with others, free from noise restrictions
A second phone jack can be life-saver when you need to finish the mix with your colleague in close proximity to family or neighbors you don't want to disturb. The left-hand phone jack always mirrors the main outs, and the "Main" volume knob controls both. The right-hand phone jack has added flexibility: it can mirror the main outs, with independent volume control, or it can mirror any other 4pre output pair.
Digital input/output
Digital transfers made easy
Digital transfers are an essential fact of daily studio life. The 4pre's standard S/PDIF input and output make stereo digital transfers a snap, with optional external clocking and support for sample rates up
to 96 kHz.
Digitally controlled analog trim
Analog quality with digital precision
The 4pre preamps deliver clean sound, 60 dB of gain, and adjustments in approximately 1 dB increments using the front-panel trims or the on-screen CueMix software. The gain adjustment itself is smooth because it is analog, but the digital control gives you both precision and the ability to save and recall trim settings. So you get the best of both worlds: analog trim with digital precision and control. Trim is adjusted at the input, before the mixer, so it applies to all mixes. Mix levels are controlled separately from trim, so you never sacrifice sound quality for a balanced mix. The S/PDIF digital inputs can be trimmed, too.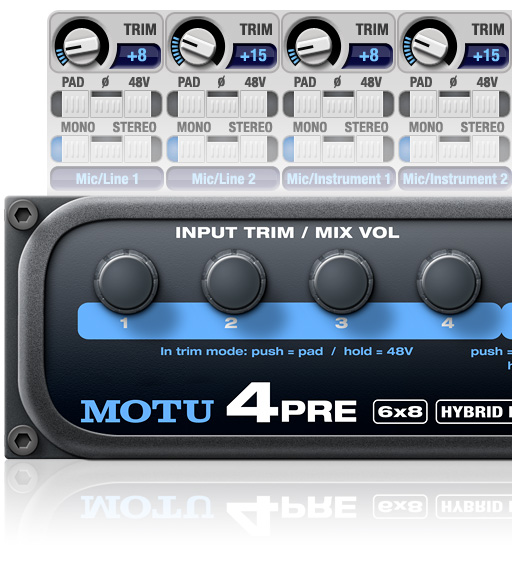 It's an 8-bus digital mixer, disguised as an audio interface.
Use the 4pre as a mixer on stage for live performance, in your personal studio without a computer, or together with your host software as a monitor mixer.
Front panel mix controls
Nothing beats hands-on control of your mix
What makes the 4pre unique? Immediate, hands-on control of your mix using the front-panel knobs and status LEDs. To adjust the volume of an input, just turn its knob. The 4pre lets you control mix volume independently from the input's trim level, so you never have to sacrifice sound quality for a balanced mix.
Four separate mixes
Dial up a separate mix for each output pair
The 4pre mixer takes signals from its six inputs and mixes them to an output pair, such as the main outs. You control the volume of each input. Better yet, you can adjust input volumes differently for each output pair. In other words, each output pair can have its own unique mix. For example, you might create a balanced mix going to your PA via the main outs, but bring up the guitar for the mix going to your stage monitors via the line outs, so you can easily monitor your guitar sound. You get a separate mix for main outs, line outs, S/PDIF digital out, and phones.
As a live mixer
Bring the 4pre to your next gig
Immediate volume adjustments are always within reach, so the 4pre serves as the perfect compact, portable live mixer,
with or without a computer.
Even without a computer, the
4pre gives you complete control over all four mix busses with
direct access to volume, mute
and solo for each input.
As a studio mixer
Use the 4pre as the mixing hub in your personal studio
Back in your personal studio, you can of course use the 4pre to connect your mics, guitars, and other inputs to your computer. Sometimes, however, you just want to play your instruments, without the computer. The 4pre continues to serve as your studio mixer, even when your PC or Mac is turned off.
As a monitor mixer
Eliminate host latency while tracking in the studio
When recording into your computer, host audio software can sometimes introduce a slight delay (latency) in what you hear as you track. You can use the 4pre mixer, instead of monitoring through the software, to completely eliminate this delay. The 4pre even provides talkback and listenback for working with talent in your studio's isolation booth.
CueMix Software
On-screen mixing & control
CueMix gives you comprehensive graphic control over your mix and other settings in the 4pre. CueMix can be operated side by side with any host audio software for Mac or Windows, and it can be controlled from the Mackie Control Universal Pro automated worksurface, or any HUI-compatible controller.
Control room monitoring
Talkback and listenback
CueMix provides Talkback and Listenback features. Talkback allows an engineer in the control room to temporarily dim all audio and talk to musicians in the live room. Conversely, Listenback allows musicians to talk to the control room. For Talkback, you can set up a dedicated mic in your control room and connect it to a mic input on your interface. For Listenback, you can use one of the recording mics in the live room or you can set up a dedicated listenback mic for the musicians and connect it to a spare mic input.
Stereo operation
Configure inputs as stereo pairs
Two channels can be grouped to a single fader for true stereo operation. Two stereo panning modes are available: balance and width. Balance mode works much like a normal stereo balance control, one channel fades in and the other fades out. Width mode collapses the stereo image to mono by adjusting the relative pans of each channel gradually to center.
Waken your inner engineer with the 4pre's many advanced extras.
expansion
Need more inputs and outputs?
Add another 4pre or another MOTU audio interface as your needs grow, by daisy-chaining or by using a standard Firewire or USB 2.0 hub.
The 4pre provides driver-level support for resolving multiple interfaces with each other so that their audio streams never drift apart over time during recording or playback.
Direct SMPTE time code sync
No separate synchronizer required
You can resolve the 4pre directly to SMPTE time code, without a dedicated synchronizer, via any analog input. The 4pre provides a DSP-driven phase-lock engine with sophisticated filtering that provides fast lockup times and sub-frame accuracy. This technology represents the very latest in extremely high-performance, yet cost-effective digital audio clocking. DDS also allows the 4pre to maintain an extremely stable clock while resolved to incoming clock sources that have substantially more jitter than the 4pre itself.
SMPTE Console software
Synchronization made easy
The included SMPTE Console™ software (for Mac OS X and Windows) provides a complete set of tools to generate SMPTE for striping, regenerating or slaving other devices to the computer. Like CueMix, the synchronization features are cross-platform and compatible with all audio sequencer software that supports the ASIO2 sample-accurate sync protocol.
Instrument Tuner
Accurately tune guitars and other instruments
Just open the Tuner window, play a note, and use the large graphic display to get in tune with an accuracy of one 10th of a cent (one 1,000th of a semi-tone). Being in tune has never been easier. The Tuner displays the detected note by frequency (in Hertz), note name and octave, with an adjustable reference frequency for A4 between 400 and 480 Hz. The large meter gives you a clear indication of how high or low you are from the detected pitch. Large red arrows direct you up or down as needed to zero in on the correct pitch. You can even tune phase-coherent stereo signals. The CueMix Tuner is as advanced and accurate as any dedicated hardware tuner out there.
FFT display
Visualize your frequency content
Visually monitor the frequency content of your music or other audio material as it plays. The CueMix software superimposes a Fast Fourier Transform directly on the spectrogram display so that you can see the relationship between the two for the audio material being monitored.
Spectrogram "waterfall"
A cascade of information — in vivid color
Observe rich, detailed visual information about the frequency content of any signal or mix. You can expand the spectrogram to fill the entire resizable CueMix on-screen window. You can also combine the spectrogram with the FFT display in the same display, as shown below, or separate them to view them individually but simultaneously.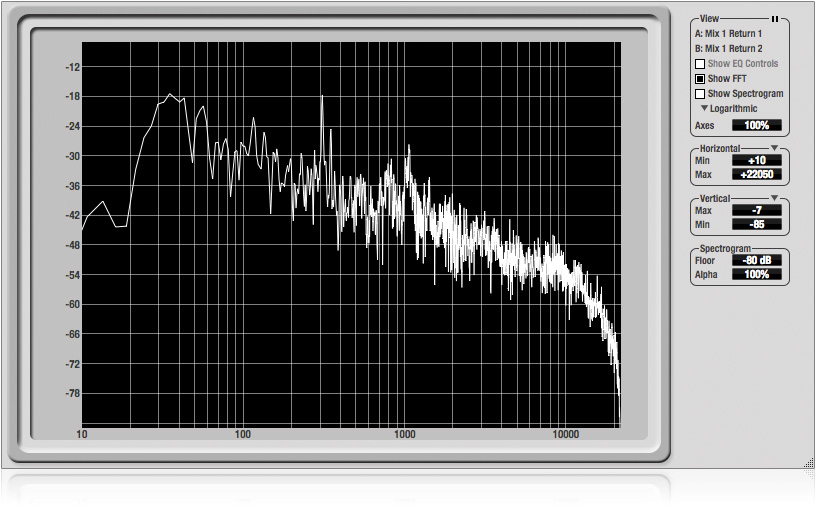 X-Y Plot
Check phase alignment with visual clarity
The X-Y Plot window graphs a stereo signal on a standard grid with left-channel amplitude on the x-axis and right-channel amplitude on the y-axis. Stereo material that is said to be "in polarity" (i.e., phase aligned) appears along the x = y axis. Stereo material that has phase problems will appear along the x = -y axis meaning the signal will appear predominantly in the upper left and lower right of the display. A signal with an extremely wide stereo field will appear much more randomly (not along either axis).
Phase Analysis
Check for phase cancellation when summing to mono
The Phase Analysis window graphs frequency versus phase difference versus amplitude of a stereo signal on either rectangular or polar coordinates. In the rectangular view, the vertical axis represents frequency, and the horizontal axis represents the phase of the left channel minus the phase of the right channel. Stereo audio that is predominantly in polarity will appear centered along the center vertical axis. Frequencies that would be canceled by summing to mono are those that touch the -1.0 or +1.0 lines on the left and right.
In the polar view, the radius represents frequency and the angle (theta) from the +y vertical axis represents the phase difference of left channel minus the right channel. Stereo audio that is generally in phase will appear along the +y axis (above the center point). The more the audio signal "tips" to the left or right, the more out of polarity it is. If it is completely out of phase, it will point downwards from the center point and hover around the -y axis (the part of the y axis below the center point).
Applications for phase analysis
Phase analysis can be used for a broad range of applications in the studio and on the stage. Here are just a few ideas.
Recording with multiple mics
The Phase Analysis window lets you compare multiple mic sources with each other to check for potential phase cancellation caused by varying distances in mic placement from the recorded source.
Checking overall polarity
Quickly check the overall polarity in your stereo mix for phase issues.
Summing to mono
If your stereo material needs to be summed to mono, Phase Analysis lets you see what frequencies will be canceled out when summed.
Tuning PAs or sound reinforcement
Place mics in strategic locations in your venue to check for critical phase issues in the listening environment.
Oscilloscope
This is not your grandpa's oscilloscope…
CueMix's oscilloscope delivers a robust feature set combined with digital precision. Amplitude is displayed on the y-axis and time is displayed on the x-axis. The pause button lets you "freeze" the real-time display and then zoom in to the sample level for closer examination. You can choose among several different displays for stereo signals, including combined (as shown below) or split screen. The Waveform Recognition feature searches through new audio data looking for matching waveform data, and the trigger options let you specify detailed criteria for displaying the incoming signal's waveform in the display. The oscilloscope can be used for a variety of daily studio tasks, such as analyzing and comparing harmonic content, closely inspecting transients such as drum hits, comparing timing between two signals, and performing clip detection. You can even use the oscilloscope to help you build synth patches and check them for non-obvious issues, such as DC offset.
AudioDesk 3: An audio production powerhouse. included.
The 4pre ships with AudioDesk 3 workstation software for Mac OS X. All the audio production power you need. And then some.
AudioDesk 4
Advanced workstation software for Mac OS X and Windows
AudioDesk provides advanced recording, editing, mixing, processing, and mastering. AudioDesk
delivers the power of modern digital audio workstation technology in an easy-to-use, inspiring
multitrack recording experience. Together, AudioDesk and the 828x transform your computer
desktop into a complete, professional recording studio.
Recording
Record as many tracks as you need — there are
no track limits or other restrictions in AudioDesk.
Editing
Refine your tracks to your heart's content.
Dozens of advanced editing features await you.
Mixing
Create the perfect mix with AudioDesk's sophisticated, automated mixing environment.
Processing and mastering
Apply EQ, dynamics, reverb and other effects.
Add master channel effects for final mixdown.